!-Généré par Avanquest Technology v:8.0. Pour plus d'information, visitez : http://www.avanquest.com -->
Guillaume le Conquérant
Guillaume le Conquérant, est devenu duc de Normandie (1035-1087) et roi d'Angleterre (1066-1087) après avoir vaincu Harold II à Hastings en 1066.

Il sut organiser son nouveau royaume en constituant une noblesse militaire très fortement hiérarchisée.

Il chute lourdement de cheval lors du sac de Mantes. Il décède peu après à Rouen, mais est enterré dans l'Abbaye aux Hommes de Caen qu'il avait fondée naguère.

Pour en savoir plus sur Guillaume, cliquez sur son timbre.
William the Conqueror, became Duke of Normandy (1035-1087) and King of England (1066-1087) after defeating Harold II at Hastings in 1066.

He knew how to organize his new kingdom by building a very strong hierarchical military nobility.

He fell heavily on horseback during the sacking of Mantes. He died shortly afterwards at Rouen, but is buried in the "Abbaye aux Hommes" in Caen once he had founded.

To learn more about William, click on his stamp.

La NORMANDIE
en long, en large et en ....
TIMBRES
Probablement à Falaise, vers 1027/1028 – Rouen, 9 septembre 1087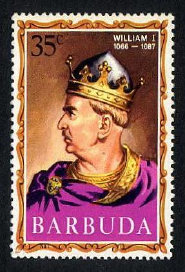 Y&T 42 / S-G 42